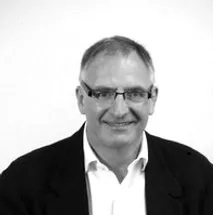 Feedback from Managing Director
Robert Stewart
Firstly I wanted to thank you all for your support in 2022 which we are very grateful for. It was an exceptionally busy year, but equally rewarding. We are particularly pleased to be supported by the Paula Carr Diabetes Trust.
The Digital Innovation Centre has been working on a number of important projects and collaborations, delivering a plethora of courses,  with our embedded ethos of bringing learning to life, making our training and experiences more interactive, and above all fun! 
The feedback we have received from our delivered courses has enabled us to deliver quality education and experience, and we will continue to learn, grow and develop, so we can create content that engages and excites you in your personal and professional development.
Moving into 2023 we are already creating our new brochure for the Digital Innovation Centre, reviewing our training offer, and how we can do things differently to meet the needs of our learners, key partners and stakeholders across the Health and Social Care Sector.
Please keep your eyes peeled over the coming months to see how we could support you 'mobily' and the courses we will be offering.
 I would also like to give a special mention to our NHS colleagues who are working tirelessly during these challenging winter pressures. The Digital Innovation Team will continue to work in partnership with the NHS systems and we are committed to supporting our colleagues, looking at how we can upskill the workforce to increase capacity, and prevent bed blocking.
 Lastly, The Digital Innovation Team is very much looking forward to welcoming you to our centre this year.
Robert
Karen Paine RGN BSc(Hons) - Clinical Skills Facilitator
2022 – looking back, what a year!

We have always wanted to do things differently at the Digital Innovation centre, less power points, less talking at you. More engagement, more virtual reality, more quality, more safety, more laughter, more learning.
Our vision here is bringing learning to life through simulation, skills and scenarios, which we know will change the way you provide care improving and embedding. Our evaluations corroborate that too.
January was a month of meetings and planning with Lisa Doherty from dementia support services to develop a bespoke dementia awareness day. No PowerPoints, interaction, games, quizzes, fire, water, singing and lived experience. We also began work with Kent Surrey and Sussex alliance health network to continue teaching how to recognise signs of deterioration (RESTORE) and with Kent Community Health Trust – both wanted to deliver a course that would support staff to attend it and then be able to confidently provide care and interventions from day one.

In March we collaborated with many partners to bring you courses to support you in the workplace
Macmillan, Cheisi (respiratory) Catheter care, Diabetes and others. We also delivered Infection Control courses and Mindfulness sessions to improve mental and physical wellbeing (delivered virtually)
May welcomed Mags Harrison and the ESTHER philosophy - 'what matters to ESTHER, not only what is the matter with ESTHER'. A person centered, quality improvement programme, facilitating attendees to present an Improvement Project at the end of it. The projects can be shared on our website, sharing skills, practice and no need to re-invent the wheel with social isolation, and a plethora of other improvements.
We launched ESTHER in May with e learning/Improvement Coach training and webinars, and continued month on month to September with our other courses, updating and changing them – we always listen to your feedback.
We also worked with Nottingham Rehab Services to provide Simulation Based Education for Occupational Therapists in the system and supported the use of Technology in the home.
October showcased our two weeks care home programme, delivered with KCHFT and we taught, person centred care, communication, IPC, diabetes, dementia, falls, end of life, deterioration, safeguarding and basic life. After this 2-week period we signed off some delegates care certificates- we think this is groundbreaking.
November, we went all out- literally and delivered the Deteriorating patient to Domiciliary care in Thanet (Caremark) and we plan to do much more of that in 2023- can't come to us, no problem!
December, we blitzed the deteriorating patient RESTORE2MINI training, twice a day three times a week virtually.
PHEW!!!!!
2023 here we come, contact any of the team to see how we can change the way you care.

Testimonials from our training courses:
Feedback from one of the homes in Care PCN regarding the RESTORE2 training - Noted that the session was the clearest, easiest and most engaging RESTORE2 Session they had attended. They really enjoyed it and are hoping another session may be put on again to send more of their staff to attend, with the bonus of observation competencies also it was a great day. All the homes that attended from CARE PCN also said how enjoyable and engaging the day was
Feedback from KCHFT regarding RESTORE2 training - I wish that I had done this induction when I first started working, I would have been better equipped to manage my patients.
Feedback form Hawkinge House regarding Dementia training- this is the best training I have been on. 
Welcome to The Team
Workforce Updates
Business Support Manager - Anthony Zysemil
Please help us in welcoming Anthony to The Digital Innovation team!
Anthony has worked in Health & Social Care in support and management roles for approximately 15 years, and brings a wealth of experience and knowledge from the sector. 
One of Anthony's achievement's professionally in the past two years, was supporting the NHS as Operational Manager for two complex vaccination sites in the south east, rolling out the vaccination program.  
Most recently Anthony was a Site Manager in the care sector for Adult Services, working with the Managing Director and leadership teams delivering various strategies and projects.
Anthony's personal interest include - Travelling, music, theme parks, art and design, technology and things wildlife!
IT & Innovation Technology Lead - Robbie-Jay
Please give a warm welcome to Robbie-Jay!
Robbie-Jay joined the team in November 2022  and has been very inspired by the training courses offered at the centre and how impactful they are to care staff. 
Robbie-Jay has a strong background in information Technology and describes himself as being "a jack of all trades" when it comes to technology, from building computers to programming.
Alongside his Information Technology experience,  Robbie-Jay has a degree in game design and development,  and will be using the experience and knowledge to help "gamify" various aspects of the training at the Digital Innovation Centre.  Including the development of the VR/XR experiences.
Outside of the office, Robbie-Jay enjoys "geeking out" to various things, researching various scientific topics, playing the guitar, photography and of course… Lots of gaming!
Care Sector News
CareTech
The CareTech Training Team visited The Digital Innovation Centre on 10th January 2023 to discuss how we could support with technology to deliver training differently, and how technology could be utilised to Improve retention through learning that is meaningful and fun, using gamification, simulation, Virtual and Xtended reality, with scenarios that put skills into context.
The team were given a VR experience and were taken through our simulation suite, brining to life the experience of the individuals they support, and how learning could be brought to life for their workforce.
If you would like to visit the centre for a demonstration of the services we provide and how we could support you, please click the button below for navigation to our email address.
Kent & Medway NHS, East Kent Health & Care Partnership
The East Kent HCP leads visited the Digital Innovation Centre to explore how we can support them with Care Sector training and skills improvement. 
An open day will be planned for East Kent shortly.
ESTHER Cafe
Hawkinge House Folkestone Kent
An ESTHER Café was held on 26th October 2022 at Hawkinge House care home in Hawkinge, where we listened to Malcolm's story about his wife Sheelagh's dementia and his experience of being her carer for seven years. We heard about what was important to Sheelagh and Malcolm during this time, especially regarding being cared for at home and the support needed to make this a reality. As with all ESTHER Cafés, this was an opportunity to reflect on real life experience and learn from this how care and support could be better across our health and care system.
Malcolm described how as a couple they were initially "left on our own to do the best we could" and how difficult it was to 'deal with two separate trusts', each managing different aspects of Sheelagh's care. Commenting on his role as a carer Malcom advised:
"Caring is difficult if you don't know what to expect. Information is there if you are adept at searching the internet. If family or friend carers become more widely used and this is likely because of the financial burden of care away from home, better, easily available and down to earth information will be a requirement."
An important outcome from an ESTHER Café is to identify the top three improvements that could have made the care and support experience better and apply this as learning across the system. The top three suggested improvements from this ESTHER Café were:
Focus on the quality of life, not on the barriers to that, being clear about the enablers to quality of life e.g. availability of equipment and timely removal when no longer needed.
Build good relationships to sustain good care, consistency across services is key.
Training and awareness raising on dementia, especially for GPs and other clinicians, to create a broader understanding.
Another feature of an ESTHER Café is to highlight the positive aspects of the care and support experience, to ensure good experiences are replicated and become part of general good practice. Malcolm described the positive support provided by No Place Like Home http://www.nplh.uk, whose mission is to help people make the most of their later life, focusing on quality and enjoyment, based in Canterbury and Swale.
Also present at the Café was Associate Professor Gillian Mulvale, from McMaster University, Canada, as part of a visit to the Kent and Medway ESTHER programme, for research and evaluation purposes. The research findings will be published next year, in the meantime Gillian shared that she was impressed with what she experienced on her visit.
All attending the Café were curious about the Christmas decorations already in place in October! It was explained that a resident at Hawkinge House who was very unwell had asked for an early Christmas Day meal and get together with family and friends and this had taken place a few days before. Staff at Hawkinge House were happy to make this wish come true, it had been a happy and joyous occasion and very much #whatmatterstoESTHER 😊
for further information about how ESTHER Cafés can drive person-centred quality improvement in your organisation, please contact us
ESTHER Improvement Coaches
The first group of ESTHER Improvement Coaches to undertake the training since the programme transferred to the Digital Innovation Centre in April 2022, completed their training on 16th November 2022.
Congratulations go to:
Ellen Mitchell – NHS Northdown Surgery, Margate
Victoria Nichols – NHS The Limes Medical Centre, Margate
Stuart Ellesmere – Kent County Council Community Warden Service
Mandy Harris - Kent County Council Community Warden Service
Lisa Harrison - Kent County Council Community Warden Service
Alison Ring - Kent County Council Community Warden Service
Martin Sherwood - Kent County Council Community Warden Service
Georgina Springall - Kent County Council Community Warden Service
Diane Wakeling - Kent County Council Community Warden Service
The new ESTHER Coaches presented their improvement project work, highlighting their person-centred work across a range of situations and circumstances including many examples of social isolation, addiction problems, dementia cafés and support. Also shared were great examples of strengths to be found within communities, with one ESTHER who had received support to address his social isolation being inspired to go on and run activities for others experiencing social isolation, through a new 'Get together, grub and pint club'.
The new Coaches were put through their paces by guest invigilators, managers from their organisation and two members of the public, John and Lyn, who provided very insightful comments and feedback, as part of the Coach sign-off process.
Hot on their heels were the next group of Coaches to complete their training on 6th December 2022. Congratulations go to:
Linzy Clarke – NHS Folkestone, Hythe and Rural Primary Care Network
David Keningale – Kent County Council Community Warden Service
Grace Walker - Kent County Council Community Warden Service
Once again guest invigilators, managers and members of the public present were impressed with the range of improvement projects carried out by the Coaches, including life changing diabetes support, addressing social isolation and in one case also included support for depression and improving mental health and wellbeing.
For details of fully funded ESTHER Improvement Coach training commencing in February and March 2023, contact us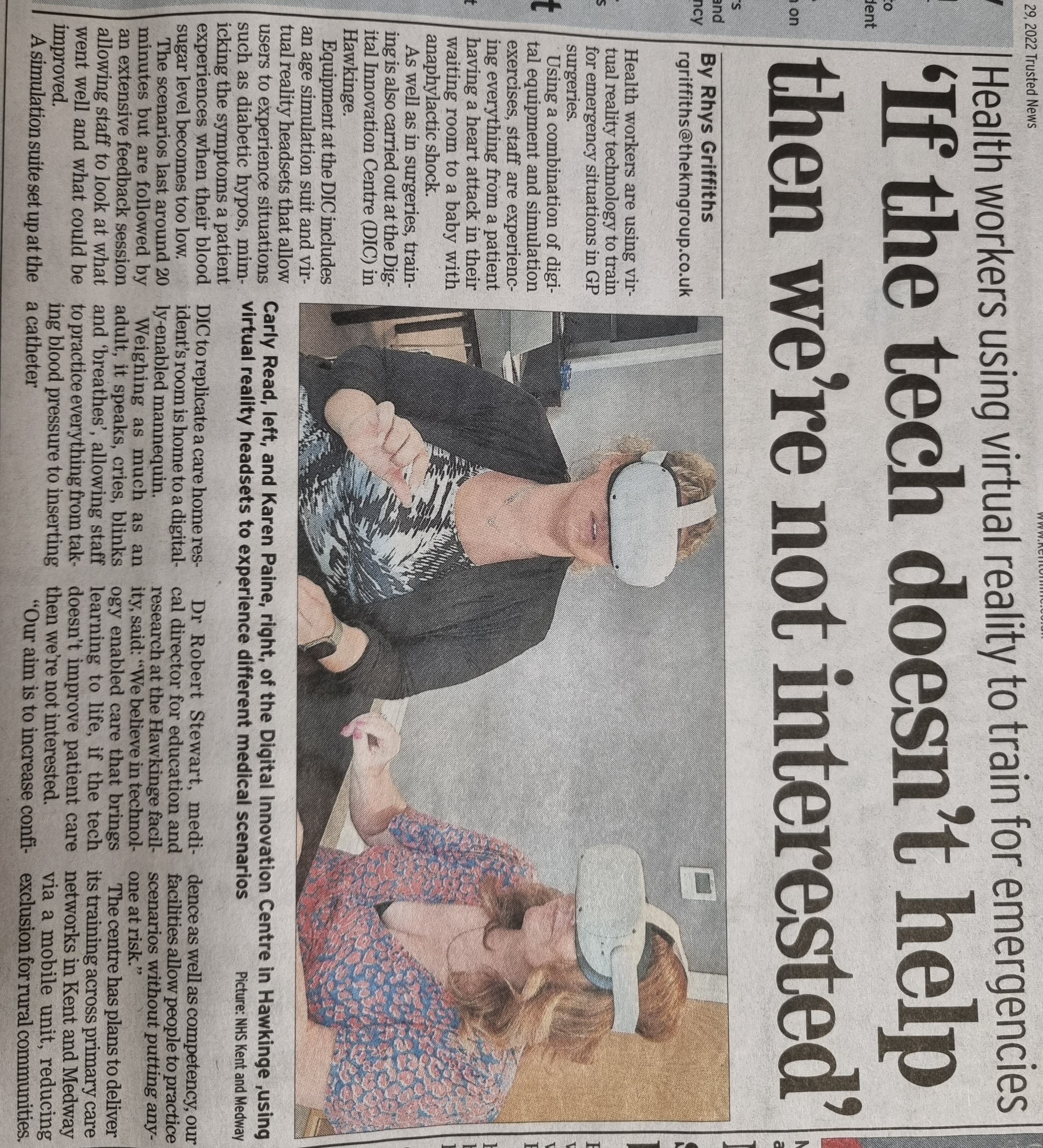 Digital Innovation Centre - Feature in Folkestone & Hythe Express Newspaper!
Digital Innovation Centre
First Floor / Hawkinge House / Hurricane Way / Folkestone / Kent / United Kingdom / CT18 7SS